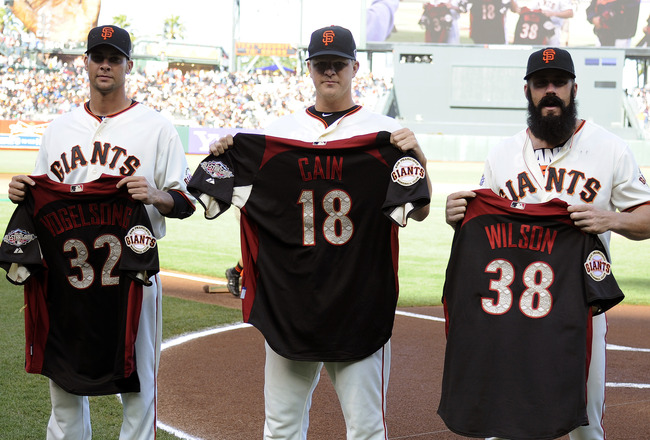 The All-Star festivities and merrymaking continue in Arizona, and the San Francisco Giantsare well represented. Just a year after winning the World Series, the defending champs sent five players to the Midsummer Classic, and for good reason.
While only closer Brian Wilson made it through fan votes alone, all five Giants have had first halves worth celebrating.
Starting pitchers Tim Lincecum, Matt Cain and Ryan Vogelsong lead the stellar pitching staff that has kept the Giants in first place, and nobody can deny how essential their contributions have been. The Giants pitchers as a whole have a 3.20 ERA, third-best in the National League, and lead the league in strikeouts with a whopping 775 (8.1 K/9). 
Wilson, whose personality is as big as his beard, has laid down another season of ninth-inning dominance. While his 3.14 ERA falls short of his numbers last year, he is still tied for second in the league with 26 saves, and he remains a terror on the mound. 
Third baseman Pablo Sandoval, the Kung Fu Panda, was a late addition to the team, replacing the injured Placido Polanco on the All-Star roster. Despite missing six weeks when he broke a bone in his hand, Sandoval has emerged as the Giants' most destructive and reliable hitter, running a 21-game hitting streak into the All-Star break.
While these All-Stars have led their team to a three-game lead going into the break, it remains to be seen at what level they'll perform for the rest of the year. Here are my projections for their second-half performances.
Tim Lincecum
While Tim Lincecum's pick for the All-Star Game was a bit controversial, there's no doubt that he remains one of the most intimidating and dominant starting pitchers in the majors.
Projecting Lincecum is tricky business, especially considering how inconsistent he's been month to month. He had a 1.47 ERA in May, but a 4.84 ERA in June.
In 2010 he posted a 7.82 ERA in August, but just a 2.84 ERA the rest of the year, closer to his Cy Young statistics in 2008 and 2009.
Looking at his splits, he's never done significantly better in the first half or the second half, with a respective 3.00 and 3.11 ERA before and after the All-Star Break.
His batting average on balls in play (BABIP), strand rate (LOB percentage) and other metrics are all around normal levels, showing that he has not been the victim of bad, or especially good, luck.
The biggest external change Lincecum could see is an improvement in the Giants offense, which might result in a few more wins, while it's pretty unlikely that the offense could get worse.
I project that Lincecum's second-half numbers will be similar to his first-half numbers.
Tim Lincecum First-Half Numbers
7-7, 3.06 ERA, 1.20 WHIP
Tim Lincecum Second-Half Projections
8-5, 2.98 ERA, 1.20 WHIP
***
Matt Cain
Matt Cain has managed to escape the spotlight for the majority of his career, despite the fact that he has arguably been one of the most amazingly consistent starting pitchers in the league.
His career splits show this too. Looking at his monthly averages, he doesn't have an ERA above 3.71 (May) or below 3.07 (August). In his career he's been better in the second half (3.52 ERA first half, 3.26 ERA second half), though it never varies much.
Cain has always baffled many advanced pitching metrics in his career, which makes projections a bit tricky to produce. While he's never had overpowering fastball speed or baffling movement, he has excelled by producing pop-ups and other weak contact at a consistent rate.
There's nothing about Cain's 2011 season so far that indicates he's due for a regression. This year, his home run rate is shockingly low, his strikeouts are up and his BABIP is right about at his career level. He's even managed to get decent run support this year, and his eight wins are well above average for him.
In the second half, I project Matt Cain to be a well-above-average pitcher, and an improvement on his first half. 
Matt Cain First-Half Numbers
8-5, 3.06 ERA, 1.10 WHIP
Matt Cain Second-Half Projections
 8-4, 2.90 ERA, 1.10 WHIP
***
Ryan Vogelsong
Ryan Vogelsong is probably the most difficult Giant to predict, given that nobody could have predicted what's already happened.
In half a season, Vogelsong has gone from an unknown, moderately successful pitcher in Japan with little success in the MLB, to an All-Star currently second in the National League with an excellent 2.17 ERA. While his 1.19 WHIP is good-not-great, he's clearly shown that he can work his way out of a jam.
His career BABIP is .301, but his 2011 BABIP is .262, which indicates that he may be getting lucky. His strand rate this year (83.8 percent) is way above his career numbers (68.4 percent), and while he's been great at run prevention, a number of stats show that he may not maintain this level of dominance.
Of course, a lot of these numbers have to be taken with a grain of salt. His BABIP might be a product of his improved pitching, which has led batters to make worse contact with his pitches. He seems to be feeling like a whole new pitcher, and he's achieved a level of focus he never had before. While he may not finish the year with an ERA hovering around 2.00, it's conceivable that this is the real Ryan Vogelsong.
I don't predict that he'll be leading the league in ERA down the stretch, but I think he'll be a well-above-average pitcher in the second half.
Ryan Vogelsong First-Half Numbers
6-1, 2.17 ERA, 1.193 WHIP
Ryan Vogelsong Second-Half Projections
6-3, 3.20 ERA, 1.21 WHIP
***
Brian Wilson
It's impossible to set foot in AT&T Park without seeing a plethora of giant black beards, Panda hats and other paraphernalia more common at aRocky Horror Show than a baseball game. And no player's personality comes across stronger than Brian Wilson, the wacky, self-described "adrenaline-junkie" closer.
Since gaining the closer job, Wilson has excelled in the position, going from a 4.62 ERA in 2008 to a 2.74 ERA in 2009 and finally to a 1.81 ERA in 2010. Every year he increased his innings pitched, and saw his performance improve. His strikeout rate increased dramatically, going from 9.7 K/9 in 2008 all the way to 11.2 K/9 in 2010, cementing him as one of the best, and most fearsome, closers in the league.
He led the league in saves last year, and tied Rod Beck's single-season franchise saves record with 48.
Given how this year has gone, I wouldn't be surprised if even Wilson's suspiciously black beard starts showing some grey. With the playing style of the Giants, Wilson's role and importance won't be shrinking anytime soon, and he'll be called into many more ninth innings before the season is over.
In the second half, I project Wilson to recover from his early ERA struggles, settling somewhere between last year's numbers and this year's.
Brian Wilson First-Half Numbers
26 SV, 3.14 ERA, 1.419 WHIP
Brian Wilson Second-Half Projections
24 SV, 2.60 ERA, 1.25 WHIP
***
Pablo Sandoval
Ryan Vogelsong is the hardest Giant to predict, but Pablo Sandoval is definitely the most fun Giant to predict.
Sandoval had an All-Star-caliber year in 2009, going .330/.387/.556 with 25 HR in his first full season. While 2010 was a disappointment to everyone, especially Sandoval, he dropped about 40 lbs of fat in the offseason, putting on muscle and reaching a much more athletic level of physical conditioning.
This year, though he missed six weeks after breaking a bone in his hand, he has dominated since his return. He has batted .319/.337/.549 in a 21-game hitting streak that he carried into the All-Star break, and he seems to have recovered the power he lost from his injury.
His 2011 BABIP of .329 almost matches his career .325 BABIP. While he's swinging even more at pitches out of the strike zone (47.2 percent), he's making more contact on those pitches (82 percent), and he's hitting fewer ground balls than ever before (39.9 percent).
Sandoval may never hit at his tremendous 2009 rate, but I predict he'll be a solid power hitter in the second half.
Pablo Sandoval First-Half Numbers
AVG/OBP/SLG: .303/.341/.503, 8 HR
Pablo Sandoval Second-Half Projections
AVG/OBP/SLG: .310/.360/.500, 13 HR
This article was originally published here on Bleacher Report on July 13, 2011.