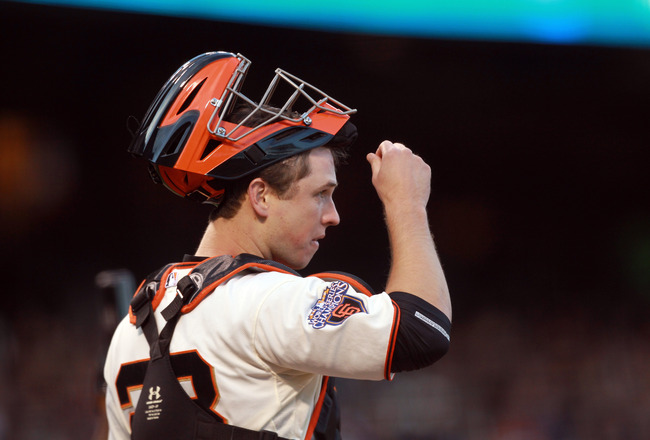 The San Francisco Giants were two separate teams last year. Before Buster Posey joined the team on May 29, they were 25-22, in third place in the NL West, and 2.5 games back of first place. 
With the offense struggling, Posey carried the team to a playoff berth and, eventually, a World Series win. With Posey, the Giants went 67-48, finishing the year 92-70.
Posey was more than a spark for the Giants offense; he helped maintain the quality of their biggest strength: pitching. The Giants pitching staff finished the year with a 3.36 ERA, the best in the majors.
The staff shut out opposing teams 17 times, led the majors in strikeouts, and held opposing batters to just a .236 batting average.
In 2011, tragedy struck. With Giants fans looking forward to a full year of their young, baby-faced savior, Posey was cut down in a collision at the plate when Marlins pinch hitter Scott Cousins crashed shoulder-first into Posey, knocking him back and out of the game.
Later, X-rays showed that Posey suffered a broken fibula and torn ligaments in his ankle, and that he would require season-ending surgery. Posey has announced his intention to return to the catcher position after he recovers.
However, with the talent and value that he has as a hitter and team leader, here are seven reasons why Buster Posey should never play catcher again.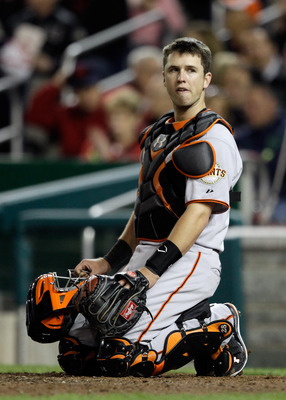 He Would Be at Less Risk of Injury 
Catcher injuries are common. Especially given the controversial rules governing (or rather, not governing) collisions at home plate, it's remarkable that more injuries don't happen to catchers.
We've seen a number of injuries from collisions, especially in the past couple of years: John Baker and Brett Hayes of the Marlins, Carlos Santana of the Indians, Posey himself this year.
Combine that with many other ways that catchers can be hurt, and you see just how much peril a player places faces when he straps on the gear.
For another example closer to home for Giants fans, just look at former Giants catcher Mike Matheny, who saw his career cut short after he was hit in the mask by a series of foul balls in 2006. Unfortunately, he could never overcome post-concussion syndrome.
Unlike most catchers, Posey is a strong hitter, and it's unwise for any team to put its best hitter in the most vulnerable position on the field. After any given play, that team could be left without its most important offensive player.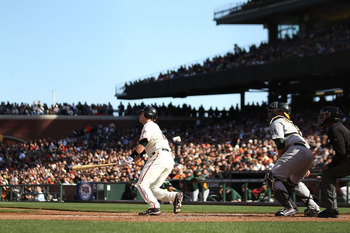 He Would Age More Gracefully
Aside from collisions at the plate and concussions, it's more the rule than the exception to see catchers fade and decline as a result of playing the position.
Even great players can fall victim to the rigors of playing catcher every day, and for an example we need look no further than Twins catcher Joe Mauer.
Mauer, who grew up in Minnesota and was drafted by the Twins as the first overall pick in 2001, quickly became a fan favorite. He has put up a batting average over .300 in all but two of his seven seasons in the majors, and won the American League MVP for a shocking line of .365/.444/.587 in 2009, with 28 home runs.
He has been an All-Star four times, a Gold Glove winner three times, and in 2011 signed an eight-year, $184 million contract extension with the Twins.
Unfortunately, he has been a victim of the injury bug. Mauer missed a month because of left knee surgery in 2004, and missed the first month of the 2009 season with inflammation in his sacroiliac joint, in his pelvis.
In 2011 Mauer missed two months of play due to "bilateral leg weakness," and has just recently come back to play again.
While Mauer remains one of the best catchers in the game, the injuries could keep on coming, and at just 28 years old, Mauer may see his career shortened.
For another example, look at Ivan "Pudge" Rodriguez. Despite a long, fruitful career across the last 21 seasons, Pudge has been nicked and bruised and beaten at historic levels. He suffered a knee injury in 1994, a fractured thumb in 2000 when he was hit by a bat, a herniated disk in 2002, and a back sprain in 2010.
While he continues to play to this day, he's seen his offensive production drop dramatically. While he hit over 20 home runs every year from age 25-29, he has been consistently below that mark since age 30, and has seen his slugging drop from the .500s, to the mid-.400s, to the mid-.300s.
If the Giants plan to keep Posey around, which is clearly in their long-term plans, keeping him as the catcher would be the quickest route to seeing him lose his power and offensive numbers.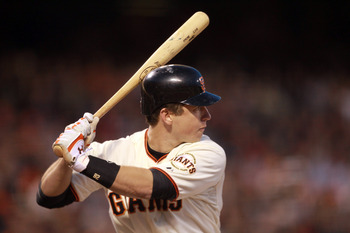 He Would Hit Better When He Doesn't Have to Crouch the Whole Game
Injuries aside, it hurts Posey's offensive production to play catcher day after day. While many fans mocked manager Bruce Bochy's decision to pinch-run Eli Whiteside for Posey on July 4 last year, it's reasonable to think that a catcher could have creaky legs after seven innings of squatting.
In Posey's 645 career plate appearances, he has batted an impressive .294/.353/.462 with 22 home runs. However, 128 of those PAs came when Posey played first base, when he hit for .336/.375/.521 with four homers. Playing catcher has reduced Posey's numbers, particularly his power.
We've also seen Posey tire as the game goes on. Comparing his numbers from inning to inning, there is a clear reduction in his numbers across the board, much more dramatically than the league as a whole:
Innings 1-3: .322/.372/.517 – (league: .247/.309/.379)
Innings 4-6: .299/.340/.453 – (league: .257/.321/.403)
Innings 7-9: .251/.333/.398 – (league: .247/.322/.373)
As you can see, in early innings he's terrific, in the middle innings he's just darn good, and in the late innings he's barely above average. Posey is a great hitter, but he could be even better if he came out from behind the dish.
Another surprising aspect of Posey's game comes from his baserunning. Despite not having much speed to speak of, Posey stole a base in the 2010 NLDS, and stole three more in the beginning of the 2011 season.
While he will never be a prolific base stealer, it's conceivable to imagine him stealing like Aubrey Huff did in 2010. Although not known for his speed, Huff was able to get good reads on pitchers and take advantage of mental lapses, and he went a perfect 7-for-7 in stolen bases.
Combined with good on-base numbers, and not having to squat the whole game, Posey could steal between 5-10 bases per year. With his power, even a little speed would make him the perfect 3-spot or cleanup hitter.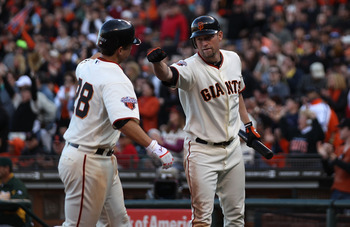 The Giants Need as Much Offense as They Can Get
Last year, Aubrey Huff was the team MVP. This year, he is arguably theleast valuable player in the league.Suffice it to say that the Giants are desperate for runs, and that doesn't look like it's going to change anytime soon.
Aside from Huff's decline, we've seen the Giants offense suffer from the immense number of players who have hit the Disabled List this year.
While some, like Mark DeRosa and Freddy Sanchez, were known to be injury risks, others took the Giants by surprise.
When you consider that Pablo Sandoval, Andres Torres, Cody Ross, Mike Fontenot, Brandon Belt and Darren Ford suddenly look mortal, it becomes scary to imagine that key parts of your run-scoring strategy could disappear for weeks or months on end.
Add the injuries to Brian Wilson, Jonathan Sanchez, Barry Zito, Santiago Casilla, and the Spring Training scare about Matt Cain's elbow, and one shudders to think about what more injuries to the pitching staff would do to the Giants' chances to win games.
In an environment where so many Giants games are decided by just a couple of runs, the Giants management has to find offense where it can.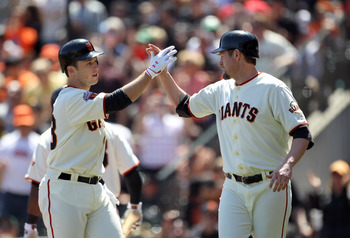 He Could Play Every Day
Another consideration for Posey's offensive production comes from his ability to play as many games as possible.
Even the best catchers rarely play every day. In 2010, after Bengie Molina was traded to the Texas Rangers and Posey became the starting catcher, Posey started 81 of 86 games, which would translate to 152 or 153 games started in the course of a regular season.
While having a hard-hitting catcher start 152 games per season would be ideal, it's pretty unlikely that he'd be able to maintain that across a whole season, let alone multiple seasons.
To look back at two previous examples, Joe Mauer and Ivan Rodriguez, we can see that neither played every day, even while healthy. Not counting Mauer's injured 2007 season, he only started between 105-135 games at catcher, taking occasional turns as the Designated Hitter.
Rodriguez, who also played most of his career in the American League, never started more than 141 games at catcher in a given year, also taking days off to play DH.
Posey, of course, plays in the National League and cannot play DH. In the best of worlds, the Giants could only expect to have their best hitter in the lineup less than 90 percent of the time.
Aubrey Huff, the Giants' best hitter last year, started 154 games, so Bruce Bochy would probably love to have Posey play every day.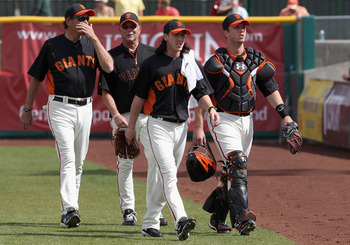 The Giants Pitchers Can Be Good Without Posey
The Giants pitching staff is good. Very good. But to say that their success is due to Posey's catching is undervaluing their skill.
Looking back at the past few years, the staff's numbers have steadily improved, but that trend began before Posey arrived, and continued after he was injured.
Giants Pitching Staff (catcher):
2006:Â 4.63 ERA, 1.403 WHIP (Eliezer Alfonzo)
2007:Â 4.19 ERA, 1.400 WHIP (Bengie Molina)
2008:Â 4.38 ERA, 1.434 WHIP (Bengie Molina)
2009:Â 3.55 ERA, 1.281 WHIP (Bengie Molina)
Apr 5-June 29, 2010:Â 3.44 ERA, 1.295 WHIP (Bengie Molina)
June 30-Oct 3, 2010:Â 3.30 ERA, 1.250 WHIP (Buster Posey)
Mar 31-May 25, 2011:Â 3.26 ERA, 1.230 WHIP (Buster Posey)
May 26-June 29, 2011:Â 3.12 ERA, 1.244 WHIP (Eli Whiteside/Chris Stewart)
***
The Giants pitching staff's dominance, which has been both rapid and significant, has less to do with Posey and more to do with a number of factors: the emergence of Tim Lincecum, Matt Cain and Brian Wilson, the renaissance of Jonathan Sanchez, the rebirth of Ryan Vogelsong, and others.
While the pitchers would certainly miss having him, his absence from behind the plate would not cause serious or lasting effects to the Giants hurlers.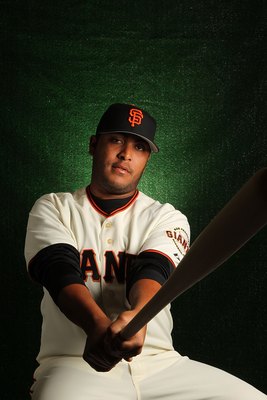 The Giants Can Make Room for Hector Sanchez
Shortly after Posey was put on the Disabled List, the Giants front office promoted prospect Hector Sanchez from the Single-A San Jose Giants to the AAA Fresno Grizzlies.
Sanchez, a 21-year-old catching prospect from Maracay, Venezuela (the same town that spawned Miguel Cabrera, Bobby Abreu, Carlos Guillen, Anibal Sanchez, Elvis Andrus, Martin Prado and many others) had spent the last five years crushing minor league pitching.
Sanchez, who put up a .301/.321/.511 line in San Jose before his promotion to Fresno, has hit .301/.381/.450 with 22 home runs across five levels of the minor leagues. Most recently, he's gone .314/.390/.412 in 16 games in Fresno.
While Sanchez still needs to prove he can hit for power and take walks against high-level pitching, he's obviously impressed the Giants brass well enough to ramp up his development.
He isn't an option in the big leagues just yet, but with Brandon Belt getting time in the outfield and Posey moving to first, the Giants youngsters could be wearing the Orange and Black together for years to come.
This article was originally published here on Bleacher Report on July 1, 2011.