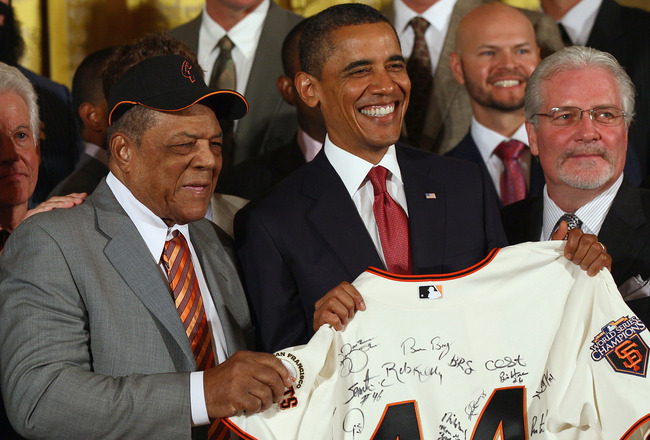 As July comes to a close, the San Francisco Giants find themselves with a nice lead in the National League West, as a result of their excellent pitching and anemic but timely hitting.
Still, with more than two months left in the season, the Giants brass can't stand pat. Key trades last season brought Ramon Ramirez and Javier Lopez, relievers who helped make the Giants bullpen as dominant as it was, shutting down the best hitters in the league.
As ravaged by injuries as the Giants have been, there are several holes in the lineup, and the right trade could be just what the Giants need to start hitting and giving their pitchers the support that they need.
Of course, every transaction involves the Giants trading away players and/or taking on salary, and trading for a bat this year could require dealing away some of the Giants' brightest prospects.
General manager Brian Sabean has announced that the Giants are looking to deal, and might even consider a rental player, but that the talent pool is thin. He also said that there is a no-trade list with "three or four" players they wouldn't consider trading away.
Still, the Giants do have plenty of assets in the minor leagues, and they have the budget flexibility to take on salary if need be, giving them some options for trades. 
While we can't know what will happen or who is truly on the trading block, here are five players the Giants should consider trading for at the deadline, in no particular order.
Carlos Beltran, Outfielder, New York Mets
With the Mets fading from contention in the NL East, the sum of their parts is truly greater than their whole. Rumors surrounding Jose Reyes on the trading block have faded, but a trade involving slugger Carlos Beltran seems inevitable.
An All-Star this year, Beltran has put up impressive numbers in the last year of his contract with the Mets. He's batted .291/.391/.519 with 15 home runs. He's leading the league in doubles, with 30, and he's even shown a little speed with three steals. Those numbers also come from him playing in the Mets' Citi Field, which favors pitchers similarly to AT&T Park, so it's not likely his production would drop greatly in San Francisco.
He's a roughly average defender in right field, but his power, patience, and overall production from his bat would make a solid middle-of-the-lineup addition for the Giants.
***
Michael Cuddyer, Outfielder, Minnesota Twins
Michael Cuddyer is quietly having a very good season, and will probably find himself in very high demand as the trade deadline approaches.
Cuddyer, who has made his career as a super utility man, made his first All-Star game this year at age 32, and has posted a .297/.371/.469 line for the year, with 14 home runs. Cuddyer has played right field, first base and second base this year, and in his major league career has played every position except for catcher and shortstop. He even pitched an inning for the Twins this week, allowing two hits and a walk, but with no runs scored.
He's been a consistently below-average fielder his whole career, but his power with the bat is legitimate. He's already matched his home run total from last year, and is just two years removed from a 32 HR season.
Given Cuddyer's flexibility and the Giants need for depth at almost every position, Cuddyer would be a solid addition to the lineup.
***
Geovany Soto, Catcher, Chicago Cubs
Buster Posey's 2010 season was remarkable, for a number of reasons. Given his outstanding offensive, his defensive acumen, his leadership, and every other platitude and intangible you could throw at the kid, he fully deserved to win the Rookie of the Year award.
Still, we need to take a step back and recognize that his .305/.357/.505 line from 2010 was even more remarkable, given that he is a catcher, a position not typically known for hitting power.
Since Posey's season-ending injury, the Giants have had trouble filling the void, relying on backup catchers Eli Whiteside and Chris Stewart. While Whiteside and Stewart have both had flashes of looking like league-average hitters, neither has ever been a starting catcher, even in the minors, and the work overload already seems to be driving down their hitting.
Geovany Soto, the 28-year-old catcher in Chicago, is more similar to Posey. He won a spot on the All-Star team and won Rookie of the Year in 2008 with .285/.364/.504 and 23 HR while playing 141 games. His numbers faded over the next few years, but last year he was well above average, and this year he's been roughly average at the plate, batting .245/.329/.416 with 9 HR.
It's unlikely that Soto would hit like he did in 2008, but installing him as the everyday catcher would put some stability at what's been a very unstable and unreliable position.
***
B.J. Upton, Outfielder, Tampa Bay Rays
While Beltran and Cuddyer would most likely only be rental trades to finish out this season, B.J. Upton has come up as a potential piece in the Giants outfield going forward.
Upton would bring some speed and a good amount of pop to the Giants, and could be a long-term solution for the team. Upton's just 26 years old and has already shown 20+ HR power and 40+ SB speed, and above-average defense in center field.
He's also arbitration-eligible next year, giving the Giants control over him next year and keeping his cost down.
Upton's biggest weakness seems to be his contact rate, as he strikes out roughly 25% of the time. His slash line is not hugely impressive, at just .229/.310/.395, but his youth and impressive skill-set show lots of potential for him.
***
Jamey Carroll, Infielder, Los Angeles Dodgers
While most Giants fans would feel strange trading with our cross-state rivals, the Dodgers may have some value to trade away as their season falls even further into hopelessness.
Jamey Carroll, a middle infielder, is perhaps best known to Giants fans as the Dodger who spoke out alongside Jeremy Affeldt against any retribution or violence following the Bryan Stow beating.
On top of his speaking engagements, Carroll's been having a good season at the plate and in the field, batting .283/.356/.350 with six steals. He has almost no power with just 12 HR in his 10-year career but maintains a high batting average and on-base percentage.
He's an above-average defender at second base but can play anywhere in the infield and has logged 128 innings in the outfield in his major league career.
With his high contact rate and decent speed, Carroll would make a nice addition to the top of the Giants lineup.
This article was originally published here on Bleacher Report on July 26, 2011.